What Happens at Brighton Curry Club?
Meet more businesses and potential new customers.
At the Brighton Curry Club everything is simple. You arrive at the Bali Brasserie for 6pm with our attendees list in hand.
Networking at the bar lasts for about an hour or so pre-dinner, then at about 7pm we organise a few pre dinner speeches and introductions.
There is no formal table plan on the night for the sit down buffet curry, so you can sit and network freely with whoever you decide. Finish time: 8-8.30pm.
How to Register For The Event?
A quick and secure online payment system.
Visit our registration page and register for one or multiple events.
We confirm your place via email.
Pay using our online payment system.
Turn up on the night with plenty of business cards.
Be more accessible to the curry club members by featuring on our Business Directory too, making it even easier for people to find you.
Great Networking and Delicious Curry!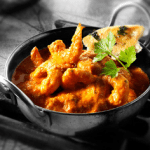 Want to build relationships in a fun environment?
The cuisine at the Bali Brasserie is exceptional and their exquisite dishes are based around a fusion of both Malaysian and Indonesian influences.
In case you didn't know, the Bali Brasserie is somewhat of an institution in Brighton and Hove and if you haven't ever been you must go for the experience.
Just come along and enjoy the experience first hand and find out what all the fuss is about!
Sponsoring The Brighton Curry Club
Would your like to promote your business?
Sponsoring the Brighton Business Curry Club means that your business is exclusively promoted to our business audience for a given month with the following benefits listed below. Please get in touch if you would like to find out more:
Exposure to a South East database of 25,000 business contacts.
Email and social media marketing campaigns.
Promotion at the event.
VIDEO: Top Business Networking Tips – From The Attendees at our April 2014 Event.